Drum motors and free rollers
The LAT drum motor is the best choice when space is limited and protruding, space-consuming structures are to be avoided.
A drum motor is intended as a drive for various belt conveyors, or as a conveyor roller without a belt
A motor and gearbox are integrated inside the traction drum. This ingeniously simple design allows for easy installation, small external dimensions and reduces the number of mounting structures. The drum motor is the best choice when space is limited and you want to avoid protruding, space-consuming structures.
drum diameter 60 - 800 mm
drum lengths 320 - 2000 mm depending on the diameter. Longer with additional bearing.
velocities 0.05 to 4.5 m / s
drum bombed or cylindrical
stainless version also available
special voltages available
all transmission gears are hardened and polished steel
LAT drum motor
We are the official importer of German, high-quality LAT drum motors. Our selection includes drum motors with a diameter of 60-800 mm. Drum lengths are available between 255-2000 mm. The material of the drum is galvanized steel as standard, but the drum motor is also available in stainless steel. The drum motor can also be coated with rubber or various ceramic coatings.
The LAT drum motor transmissions are made of steel. The 1- and 3-phase drum motor is suitable for 230V or 230/400 V 50 Hz connection. Special voltages are also possible. The power range of our drum motors is 0.03 to 132 kW, depending on the size class. The wide transmission range and readiness for the drive enable the desired belt speed. Speeds are available between 0.09-4.5 m / s, depending on the size class. Corresponding drum sizes are also available as free rollers.
The drum motor shafts are flattened for quick and easy installation. We also supply compatible end brackets. The power supply is made through a hollow shaft and in such a way that it is not subjected to mechanical stress. Thus, there are no serviceable moving parts in the power supply. There are various electrical connectors, e.g. straight, angle connector and junction box. A suitable connector can be found for every need and destination.
LAT drum motors are almost completely tight, either IP65 or tighter. The drum motors are therefore well suited for outdoor use, dusty or wet conditions. For example, stainless steel drum motors suitable for the food industry generally comply with the IP67 protection class.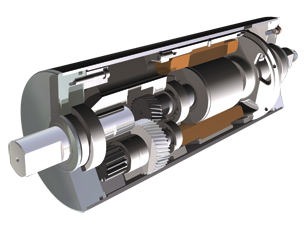 LAT drum motors are also available with an electromagnetic brake. If necessary, the drum motor can be protected against overheating with a WT thermistor or PTC sensor.
The drum is cambered in a standard LAT drum motor. The dimensions D1 and D2 of the camber, as well as the other dimensions of the drum motor, can be found in the catalog. The standard motor is delivered without a rubber coating. Whenever heat transfer is possible, the motor can also be supplied with a rubber or ceramic coating. Depending on the size of the drum motor, smooth and strait-patterned rubbers are available in cold-vulcanized thicknesses of 3-10 mm. Hot-cured motors are also delivered on a customer-specific basis. Coatings suitable for the food industry are also available.
In addition, many different variations and additional features are available for LAT drum motors. These include, for example, frequency (40-60Hz), abnormal voltage, stainless or acid-resistant material, higher than normal operating temperature (normal 40 ° C), labyrinth seal, backstop, and pulse sensor.
With the help of our staff, the right drum motor can be found quickly and without any problems. In addition, we also help with your questions about motor sizing. Contact our customer service!
Ask our experts for more information
Jarkko Lamminpohja
jarkko.lamminpohja(at)kraftmek.com
+358 400 446 178
Ilpo Pinola
ilpo.pinola(at)kraftmek.com
+358 40 5768 170
Contact us using the form
Products for power transmission easily and effortlessly from our online store