We will help you find the right belt, whether it is belt selection and sizing for the first time or a spare part.
Timing belts
Timing belts transmit force through teeth instead of friction. In terms of behavior, the timing belt transmission is similar to chain drive, but it is completely maintenance-free and allows higher speeds of movement. Like chain drive, it is possible to use timing belt drive in applications that are important for timing maintenance.
Our range covers single-sided toothed belts with STD, HTD, CTD, GT MR, GT PC, MXL, XL, L, H, XH, XXH profiles. In addition to this, our selection also includes double-sided toothed belts and toothed / V-belt combination belts.
Flat belts
The flat belts are designed for lifting use and the transmission of force takes place only by pulling. Thus, the flat belt corresponds in function to a disc bundle chain, but its advantages include maintenance freedom, low space requirements and suitability for high speeds. The flat straps are always delivered as an open roll of specified size.
The construction of the flat straps is based on a wear-resistant polyurethane frame material and stainless steel braided traction cables. Conventional flat belt profiles are F HP, F HF, F HS, F XHP, F XHS and their respective thicknesses e.g. 2.3, 2.1, 2.5, 3, 4.5. The widths of the flat belts in our range are from 10 millimeters to 150 millimeters.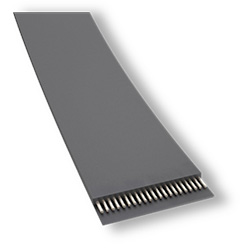 Ask our experts for more information
Janne Sorvari
janne.sorvari(at)kraftmek.com
+358 40 7704 808
Contact us using the form
Belts easily and effortlessly from our online store