Bearing heaters and accessories
NTN-SNR FAST THERM- and SAFE THERM-induction heaters for professionals.
FAST THERM
The FAST THERM product series provides the end user with an efficient, simple and safe way to install a bearing without the risk of damaging it. FAST THERM induction heaters are available in four different size classes and are suitable for bearings weighing up to 300 kg.
FAST THERM -product series benefits:
TURBO-BOOST -function allows fast heating
Practical and easy to use even while wearing protective gloves
Three-year warranty also for consumable parts
80% efficiency guarantees low energy consumption
Comprehensive range of accessories (including handles, sensors, gloves and carrying cases)
NTN-SNR SAFE THERM
The SAFE THERM product series is suitable for bearings weighing up to 1200 kg. Robust construction combined with innovative solutions such as remote control ensures an easy and safe operating experience.
SAFE THERM -product series benefits:
The sturdy construction guarantees a long service life for the device
Ergonomics of user interfaces
Remote control on 700 and 1200 models
Comprehensive accessories (including cranes and movable platforms)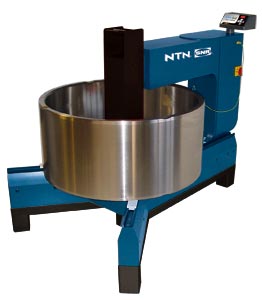 Ask our experts for more information
Markus Virkkala
markus.virkkala(at)kraftmek.com
+358 50 5930 074
Contact us using the form
Lubrication equipment and tools easily from the online store