Split bearings are known in the industry because they can be used to improve efficiency by reducing downtime.
Split roller bearings are known in the industry because they can be used to improve efficiency by reducing downtime. Time is saved in end-user maintenance when large and cumbersome structures do not need to be dismantled during bearing maintenance, inspection or replacement. The machine builder also benefits from the easy installation of split bearings in many locations.
John Handley Bearings / JHB is a company established primarily for the development and manufacture of split roller bearings. Together with the Bowman Group, JHB has developed a split roller bearing with significantly higher load capacity with an innovative new design that includes separate radial and axial bearing elements.
Now, the only one in the world, the split bearing is also suitable for applications where the bearing has to withstand a large axial load. Compared to other products on the market, JHB's axial load endurance is 1000% better. The duration of the radial load has also improved by 70%.
The unique design of the JHB split bearing eliminates the need to use several different bearing sets. Where other manufacturers have 3 different bearing sets, JHB split bearings can cover a wide range of applications with a single set. This reduces the number of components that can be stored. In addition to this, JHB also has a Bearing Kit that is suitable for competitors' bearing housings, allowing you to take advantage of JHB's higher bearing capacity.
Spheroidal graphite cast iron inner and outer frames as standard
in addition to more durable bearings, the frames are also stronger
Higher compressive force on the shaft
the structure makes the inner circumference and the shaft uniform
Easy to modify
more special versions are available quickly and cost-effectively, even in small series
Radial and bidirectional axial loads are received by three separate bearings. The load duration is in a class of its own, as the bearings have the largest duration of radial forces on the market and a unique duration of axial forces. The axial force duration is 1000% better, and this is the first bearing to be split for which it is possible to calculate the L-10 service life.
Gasket modifications
Non-standard shaft sizes, waterproof seals, etc. are possible.
Customized solutions
Customized solutions also available quickly.
Compatibility
All bearing components are compatible with each other. It is possible to assemble customized products from stock models.
Easy to install brackets and seals
SEALTRAIN® and ROLLERTRAIN® seals and holders are unprecedentedly easy to install. No extra parts, click into place.
Technical support
Kraftmek's bearing experts will help with your application with the help from the factory.
Comprehensive inventory program
The most common sizes are available from Kraftmek's warehouse, and the plant quickly delivers a wide range of JHB split bearings from its warehouse.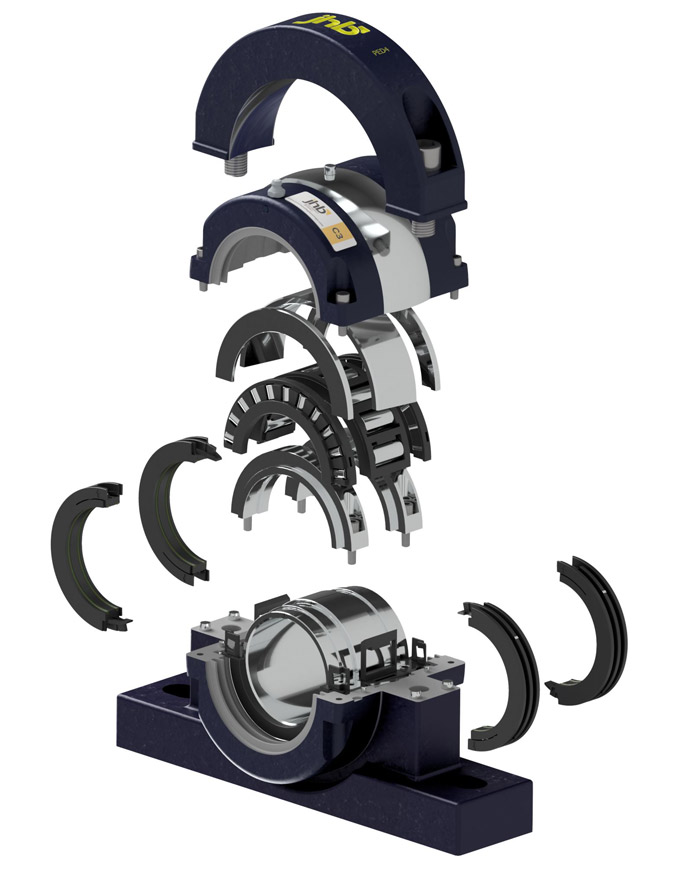 Ask our experts for more information
Sami Eklöf
sami.eklof(at)kraftmek.com
+358 50 5522 715
Orders, delivery inquiries
info(at)kraftmek.com
+358 10 75501
Contact us using the form
Bearings easily and effortlessly from our online store