ASAHI SEIKO • NTN-SNR • JTEKT
Exclusively from Kraftmek
ASAHI bearing units are known for their quality and big selection.
ASAHI SEIKO is one of the first bearing unit manufacturers in Japan.
Anti-rotation of the outer circumference of the bearing
The bearing can be replaced in the field
Bearing unit principle:
housing + insert bearing = bearing unit

The ASAHI bearing unit consists of a single-row deep groove ball bearing with a double seal and a bearing housing made of a material selected according to the application.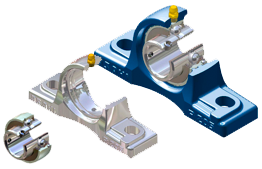 The ASAHI bearing unit differs from other manufacturers due to its very easy installation.
Watch the video for easy installation instructions:
ASAHI bearing units from our selection
Cast iron bearing units
Cost-effective cast iron bearing units
Withstand even heavy loads
Long service life
Easy to install
Aluminum bearing units
Lightweight bearing units
The bearing is made of stainless steel and the housing is made of lightweight aluminum alloy
Excellent corrosion resistance
Suitable for hygienic conditions (food, packaging, pharmaceutical and textile equipment)
Plastic frame bearing units
The bearing is made of stainless steel and the housing is made of thermoplastic
Lubricated with USDA H1 grease
The unit is water and chemical resistant
The solid insert socket prevents the growth of bacteria, making it ideal for the food industry
Stainless series
Excellent corrosion resistance
NSF H1 lubrication as standard
Suitable for hygienically clean conditions such as the food industry
Silver-series
Compact and light
Works effectively even at high speeds
Also available in stainless
Suitable for equipment used in challenging conditions
Also available from our selection
Ask our experts for more information
Sami Eklöf
sami.eklof(at)kraftmek.com
+358 50 5522 715
Pauliina Savolainen
pauliina.savolainen(at)kraftmek.com
+358 50 5522 717
Contact us using the form
Bearings easily and effortlessly from our online store